SFL TeleKits
for Short Focal Length Optics
16" - 24"
| | |
| --- | --- |
| | |
| 14.5" f/3.7 | 20" f/3.95 |
| | |
| 20" f/3.95 Cage Interior | 20" f/3.95 Cage Exterior |
AstroSystems has redesigned the TeleKit to meet the demanding requirements of the new short focal length mirrors now available. Optics of f/3.3-f/3.9 require a new approach to telescope design. The larger, heavier secondary mirrors, stringent collimation and focus tolerances are met by the new SFL TeleKit design. This new design has all the features of the standard TeleKit plus:
Super Duty Secondary Holder - To properly support large, heavy secondary mirrors several design changes have been incorporated. The larger holders have a proportionately thicker shell and a 1/2" mounting stud. The adjustment plate has been increased to 3/8" thick and a rigid foam insert is used to position the mirror within the holder accurately and maintain this position in any orientation. There are no tools needed to adjust holders of 2.5" or larger in minor axis size; they come standard with thumbscrews. All sizes feature our innovative four screw/two-axis adjustment that greatly simplifies collimation. Two nuts with nylon washers position the holder laterally and also allow easy adjustment of the rotation. The secondary mirror is held securely yet safely against the front lip of the aluminum bezel with polyester batting on sizes up to 4.0" and a rigid foam insert on sizes over 4.25". Offset is included, necessary to evenly illuminate the field in short focal length telescopes.
Super Duty Spider - Our quality super duty spiders use the finest materials and are built for optimum performance in f/3.3 - f/3.9 telescopes that require extra support. Each vane has 2 fasteners for a total of eight. They utilize 35% thicker high-tensile steel vanes, TIG welded at the hub, giving extra tensile strength to hold critical collimation. The threaded stainless steel vane tips (#10-32) are solidly TIG welded to the vanes, making this the strongest spider on the market.
Focuser - We offer the Moonlight CR-2 as standard on the short focal length TeleKits. The fine 8:1 focus control is perfect for achieving critical focus. This is one more of the demanding requirements of a short focal length telescope. The Moonlight also handles weight well with the drawtube bearings being opposite the drive axle. The extra weight of highly corrected eyepieces and a Coma Corrector require a stable focuser with fine travel.
Cage Construction - The stiffness and rigidity of the upper cage has been increased to match the demands of heavier secondary mirrors and critical collimation needed with short focal length optics. Thicker spider supports (100%), and a thicker light baffle (35%) plus keeping the cage height to 12" on all sizes achieve the necessary strength and stiffness. The filter slide is a naturally stiff mount for the focuser and is enhanced by heavier mount hardware. The supplied Moonlight CR-2 focuser has 1:1 coarse focusing and 8:1 fine focusing. The optional Feathertouch focuser has 1:1 coarse focusing and 10:1 fine focusing. Both feature a compression ring drawtube and adapter, necessary for the critical focus and collimation of short focal length optics.
Primary Mirror Cell - The needed critical collimation is achieved by edge support that keeps the primary mirror centered and extra fine collimation movement. Our zero stretch stainless band sling keeps the primary perfectly centered and achieves uniform optical support over a large portion of the edge. The collimation bolts feature 50% finer movement to easily achieve critical collimation. 16" to 22" cells feature 18 point flotation and the 24" has 27 point flotation, combined with the integrated cooling system give your short focal length optic the environment to perform at its peak.
Truss Fasteners - The short focal length TeleKits have indexed fasteners to precisely locate the truss, holding critical collimation. The size and thickness of the fasteners has been increased to further augment collimation.
Mirror Box / Rocker Box / Groundboard - The TeleKit is constructed of Baltic Birch plywood, offering strength, stiffness and natural vibration damping. The altitude bearings and rocker box sidewalls and bottom (24") are double thick, giving crisp, precise motion. This is further enhanced by our hybrid bearing system of two sets of ball bearings with one Teflon pad on the groundboard, and 2 bearing sets and 2 PTFE pads on the altitude movement (20" - 24").
You can also customize the design and feel confident adding any options desired. A 30-50% savings will be realized over purchasing a premium finished truss tube telescope. We supply all the hard to find or fabricate components, including a light shroud for the trusses and 10" transport wheels and handles. We also supply all the precision cut wood components which are routed with CNC technology. Only the highest quality stainless steel hardware is included. A complete list of supplied components and materials is in the frequently asked questions. click here

These kits include everything but the optics, AstroSystems can supply the optics or direct you to several opticians to obtain your primary mirror.
Available Optics at Astrosystems Click Here
Recommended Opticians Click Here
Check our available TeleKits page to see what TeleKits and are immediately available. Click Here
Articles and comments about the TeleKit building experience:
See what Stacey Thater writes about his experiences at www.cloudynights.com/howto/telekit.htm
Read what TeleKit owners have to say on the customer comments page. Click Here
PRICES for Short Focal Length TeleKits
| | | | | |
| --- | --- | --- | --- | --- |
| TK-16 | $2300.00 | | TK-22 | $3900.00 |
| TK-17.5/18 | $2650.00 | | TK-24 | $4900.00 |
| TK-20 | $3200.00 | | | |
SFL TeleKits are considered custom since they are made to order. Custom delivery times are typically 8-12 weeks, with the larger sizes (22-24") requiring 12-16 weeks.
Dimensions needed to place order:
1. Mirror thickness and actual diameter.
2. Mirror focal length.
3. Secondary size.
A 10% non-refundable deposit is required to secure your place in the production schedule.
Packaging for shipment in Continental U.S. Actual UPS charges will be added.
* Crating/Packaging only, actual freight charges will be added, FOB LaSalle, CO
SFL TeleKit
| | | | | |
| --- | --- | --- | --- | --- |
| TK 16 | $160.00 | | TK 20 | $200.00 |
| TK 17.5/18 | $180.00 | | TK 22 | $240.00 |
| | | | TK 24 | $290.00* |
| | | | | |
TeleKit Sizes and Dimensions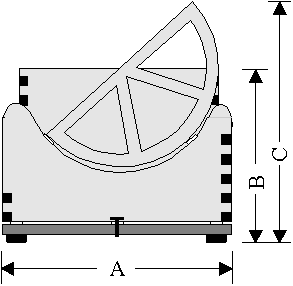 | TK Size | A (in.) | B (in.) | C (in.) | Weight (lbs.) |
| --- | --- | --- | --- | --- |
| 16" | 22.6 x 23.6 | 22 | 29 | 105 |
| 17.5/18" | 24.6 x 25.5 | 20.5 | 28.5 | 132 |
| 20" | 28.2 x 29.6 | 23 | 30 | 180 |
| 22" | 30.2 x 31.6 | 23.5 | 33 | 220 |
| 24" | 32.6 x 34.0 | 26 | 34 | 280 |
---
Back to Products
Back to AstroSystems Homepage or contact us directly by e-mail at info@astrosystems.biz